Logitech wireless illuminated keyboard K800 product breakdown
Specifications:
2.4 GHz wireless connection
Requires one USB port for wireless receiver
On/Off switch
Key Features
Backlit keyboard
Sensor to trigger backlight
Configureable function keys
Volume controls
Number pad
Pros:
Long range wireless
Backlit keyboard
Backlight sensor
Recharge with any micro-USB cable
Durable, well made
Cons:
Battery decays over several years of use
Full review: Logitech Wireless Illuminated Keyboard K800
The Logitech Wireless K800 keyboard has been a tremendous product for me and I have to recommend this product to anyone looking for a well made, durable wireless backlit keyboard that will last for years to come.
I've had my Logitech K800 keyboard for over 5 years
My K800 keyboard still works great, aside from one thing…
The rechargeable battery doesn't last as long after all the years of use. As with any rechargeable battery, they will decay over several years of use, and the battery life will eventually be reduced.
When I first got the keyboard, the battery would last for several hours, but now it only lasts for an hour or two from a full charge. I've gotten into the habit of using the on/off switch to turn the unit off when I'm not using it. Dimming the keyboard backlight will also save battery power. If you run out of battery juice, you can simply plug the keyboard into any micro-USB cable to recharge the keyboard.
The Logitech K800 wireless backlit keyboard is awesome for night use
I often work in the dark, so my favorite feature about the Logitech K800 keyboard is the backlight. After all the years of use, the backlight on my keyboard still works perfectly when the keyboard has a full charge, and it even has a sensor you can wave your hand over to activate it in the dark! The backlight has a brightness function which you can adjust instantly by using hotkeys on the keyboard!
I love watching YouTube videos and movies with this keyboard while I sit back and relax on the couch.
The great thing about the K800 keyboard is that you can take it away from your computer and watch some movies or videos without having to sit at a real chair in front of the screen. Pairing the K800 keyboard and the Logitech Anywhere MX mouse is a great way to get a wireless mouse and keyboard peripheral setup for less than $100. Both of the units will connect to the same individual unifying USB receiver.
The Logitech K800 keyboard will last for years to come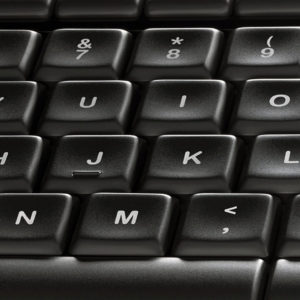 The durability of the K800 keyboard is amazing and has worked well for over five years!
When I bought my K800 keyboard, it was priced at $100, but since then the price has dropped by nearly $40!
Of course, it's not as feature-rich as your top of the line gaming keyboards, but it's not a gaming keyboard.
I'd absolutely recommend the Logitech K800 wireless keyboard to anyone looking for a mid-range keyboard because it will last for many years to come and it is quite feature rich for the price. You won't be disappointed with the K800 keyboard.