M-Audio Keystation 49ES MIDI keyboard product breakdown
Specifications:
49 full-size, semi-weighted velocity-sensitive keys
Octave range switch buttons
Pitch and modulation wheels
Transport controls
USB-MIDI cable connection
USB-powered
Key Features
49 keys
No power supply required for 49-key
Plug-and-play capability with PC, Mac, and iOS devices
Preferred Usage
DAW (digital audio workstation) music production
MIDI keyboard playing
Learning to play piano
Live performances
Pros:
Easy set up with USB plug-and-play
Weighs under 5 pounds
Traditional M-Audio sleek design
Compatible with Windows, Mac, and iOS devices
Cons:
Slight configuration issues with FL Studio 12
Cheap plastic feel
Minimal features
Full review: M-Audio Keystation 49ES MIDI keyboard
The M-Audio Keystation 49 is the ultimate bang for your buck when it comes to bargain MIDI keyboard controllers. They usually ring up for about $100, but I got mine on sale at Guitar Center for only $50, so I couldn't pass up the 50% off deal. My favorite feature of the M-Audio Keystation MIDI keyboards is the fact that they are incredibly light weight and can be moved without much hassle. If you're a musician on the go, the portability also makes great for traveling. I rated the keyboard a 4 out of 5 due to its cheap feel and some slight compatibility issues I experienced (most of which were easily resolved) while using the keyboard with FL Studio 12.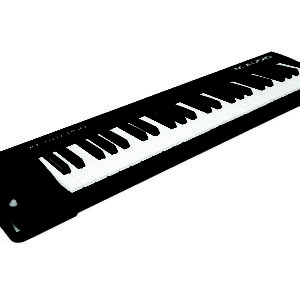 M-Audio Keystation 49 best features
While the Keystation 49 is quite simplistic with only 49 keys (4 octaves), it doesn't fall short of the necessary features I typically look for in a MIDI controller. Sure, it doesn't have 8 knobs, 8 pads, and 8 faders like I want, but it gets the job done in a pinch. Octave switches, transport controls (up, down, left, right, select), play, stop, record, volume fader, pitch wheel, and a modulation wheel all come in handy when using the Keystation keyboard. What's best about the keyboard is that it is practically plug-and-play! Turn it on and you are ready to go in most digital audio workstation software programs.
How compatible is the M-Audio Keystation MIDI keyboard?
M-Audio's Keystation keyboards are extremely compatible with PC, Mac, and even iOS devices (with an adapter kit sold separately). The keyboard is simply plug-and-play… well, for the most part. I've used this keyboard inside FL Studio 12 on my desktop PC and I've used it on my MacBook Pro with the new FL Studio 12 alpha beta for Mac. One thing I noticed about the M-Audio Keystation 49es keyboard is that it has some slight compatibility issues with FL Studio 12. I've managed to get all of the features working properly except the volume fader, and you can check out my tutorial video on how to configure the M-Audio Keystation MIDI Keyboard inside FL Studio below. The same technique applies to all variants of the Keystation keyboard.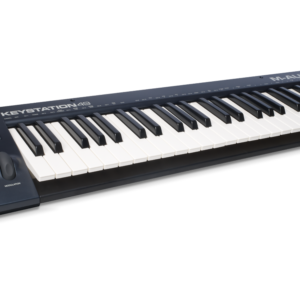 Is the M-Audio Keystation MIDI keyboard durable and portable?
Weighing in at just under 5 pounds out of the box, the Keystation 49es is extremely portable, however, due to the light weight, the plastic housing of they keyboard has a cheap feel to it. If one were to drop the keyboard from a keyboard stand, it would probably not hesitate to break fairly easily. This keyboard is very portable and could be taken on the road or set up in your studio in just a few moments.
M-Audio Keystation keyboard for live performance
I would not recommend the M-Audio Keystation 49 for a live performance, however, opting for the 61 or 88-key variant of the Keystation would suffice. They keys are semi-weighted, and when I say semi, I definitely mean semi, because it's almost hard to tell that they have any weight or springback in them at all. If you're a traditional pianist who enjoys heavier keys, you might want to skip the Keystation line, however, if you need a cheap temporary option and plan on upgrading in the future, the M-Audio Keystation should hold you over for a while and last for years to come with proper care.
Final word about the M-Audio Keystation 49es MIDI keyboard
I'd recommend this keyboard to anyone who is shopping on a budget and wants to use a keyboard inside a digital audio workstation such as FL Studio, Logic Pro, Ableton, Pro Tools, etc. The keyboard works best for independent use at a home studio for making music. Also, the keyboard does come with a free piano VST(virtual instrument) and Ableton Live Lite, so you can start playing music as soon as you install the free software and plug in the keyboard. Just remember, like all MIDI keyboards, the Keystation 49 keyboard does not output sound on its own and it requires a DAW, a computer with a sound interface, and speakers in order to achieve sound output from played keys!
If you're just a simple beat maker like myself, the 49-key version might suffice, however, if you're a pro keyboardist, you should definitely opt for the 61 or 88-key versions which range from about $135-150. Take good care of the Keystation and it should last for years to come at such a bargain price, but if you drop it, you're probably going to be out of a keyboard or at least a few broken keys.