Epiphone G-400 PRO electric guitar product breakdown
Specifications:
6 x 47 x 15 in
Stop Tail bridge system
Humbucker pickups
6 Strings
Right or left handed
Key Features
Gibson SG features with an affordable price
Gibson SG look and feel
Built for Classic SG Performance
Alnico Classic PRO Power
Push/Pull coil-tapping
Features Epiphone Alnico Classic PRO 4-wire humbuckers.
Preferred Usage
All types of electric guitar playing
Pros:
Classic style designed after the historic Gibson SG electric guitar
Cherry Red, Ebony, Worn Brown colors
Rosewood fingerboard
Adjustable neck
Cons:
Heavy neck, headstock dive
Doesn't include carrying case
Doesn't include guitar stand
Doesn't include guitar strap
Not manufactured in the USA
Full review: Epiphone G-400 PRO electric guitar
You have the best of both worlds, Gibson and Fender. It looks great, sounds great, has a fantastic high gloss finish, is well crafted, and it is very light! If you grab this awesome guitar, I recommend pairing it with the Epiphone hard case to protect your investment!
Epiphone did a great honor to the historic 60's era Gibson SG guitars with their G-400 Pro electric guitar line. True Gibson SG fans will tell you there is nothing like the original, but when you have less than $400 and you want to get into electric guitar playing, the Epiphone G-400 Pro might be the best bang for your buck.
The Epiphone G-400 Pro guitar is almost the same as the Gibson SG
The Epiphone G-400 Pro uses identical dimensions and build techniques as the vintage Gibson SG guitars. While expert guitarists can easily spot the build and design styling differences between the true Gibson SG versus the Epiphone G-400 Pro, the differences are miniscule. One major design difference that is easily spotted is the pick guard. The pick guard on the Epiphone G-400 Pro is only on the bottom half of the guitar, while the original Gibson SG covers the bottom and top halves. Aside from small differences in part quality, everything else on the Epiphone G-400 is almost identical to the original Gibson SG.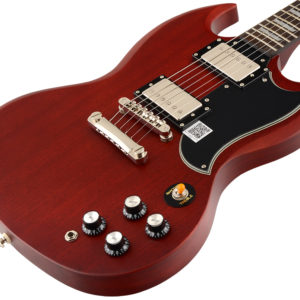 You'll only be forking out about $350 for the Epiphone G-400 Pro, however, the Gibson SG guitar will easily run you over $1,100! For a $750 price drop, you have to expect some sacrifices in build and sound quality. The Epiphone parts are not completely up to par with Gibson, but the routing and body style is nearly identical and quite impressive for the small dent on your bank account. Due to the promised quality of Epiphone, the $350 price tag on the Epiphone G-400 Pro makes the purchase entirely worth it for beginner guitarists and advanced guitarists alike.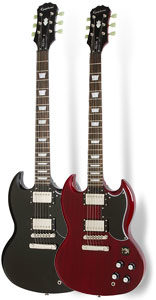 Get the best of both worlds with the Epiphone G-400 Pro electric guitar
Not sure if you will be sticking with playing guitar forever, or just don't want to drop a fortune on a musical instrument? I'd recommend saving $750 and grabbing this guitar instead of the exorbitantly priced Gibson SG model. With the Epiphone G-400 Pro, you have the best of both worlds, Gibson and Fender. The G-400 Pro looks amazing with a well crafted, high gloss finish, it sounds great just like the original SG guitars, and it's also fairly light weight except for the long neck.
The main con with the Epiphone G-400 Pro is that it tends to have a heavy neck because it starts at the 22nd fret, which can cause headstock dive while playing standing up. If you're going to be playing this guitar standing up, you will definitely want to get a proper fitting guitar strap and possibly upgrade the strap nuts for more durability.
Another con about this guitar is that it doesn't come with a case or a stand, so you're basically forced into getting one or the other depending on your playing style and needs. The soft case from Epiphone is a very tight fit and is not recommended to use if you travel a lot because it can get easily damaged even in the soft case, however, the hard case will take you back for another $100 and comes highly recommended if you want to protect your investment and look cool in the process. You can get a guitar stand for about $10-15, which is also highly recommended.
The rosewood finish on the fingerboard tends to attract a lot of nasty finger debris buildup and requires frequent cleaning when replacing strings. The Dunlop 6502 Fretboard care kit has never failed and will get your fingerboard looking brand new.
When it comes down to it and you want to save some big bucks and still have an awesome sound, you can't go wrong with the Epiphone G-400 Pro electric guitar. Overall, Epiphone is a quality brand that has been around since 1873!